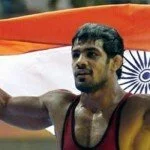 In the last day of 30th Olympics Games in London, Indian star wrestler Sushil Kumar added more India's medal collection hopes after defeating Uzbekistan's Ikhtiyor Navruzov in his second bout in quarterfinal of men's 66kg freestyle category and secures entry in the semifinals at Excel arena.
With his excellent performance and tactics, Indian wrestler quelled challenge of 23 years old Ikhtiyor in three repechage rounds after defeating Beijing gold medalist Turkey's Ramazan Sahin in London wrestling event by 3-1 point in his first opening bout.
Raising hope to win gold medal for India, Sushil injured his hand in first period and lost first two periods. But in third round, he held his breath and strongly clinched it with 2-1 score.
Now, Indian bronze winner in 2008 Beijing Olympics, Sushil will next fight against Akzhurek Tanatarov of Kazakhstan in semi final hunt in the wrestling event at London today. This will be his biggest attempt for gold medal for India, just one step far away for this amazing historical moment.