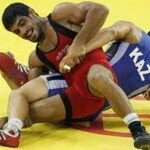 The bronze medalist in Beijing Olympics, Sushil Kumar has today created history by winning back-to-back medal in an Olympics. It is for sure that he will must bring at least Silver medal in London Olympics 2012.
He bagged silver medal by beating Kazakhstan's Akzhurek Tanatarov in the men's 66kg freestyle wrestling semi-final of the London Olympics 2012 on Sunda.
Sushil Kumar won 9-6 against Kazakhstan's Akzhurek Tanatarov. He is in final now, and will play his match against Japan's Tatsuhiro Yonemitsu, which will start at 6.33 pm IST.
Earlier, Indian wrestler Sushil Kumar beats Uzbekistan's Ikhtiyor Navruzov 6-3 to reach the last-4.
During the start of the day, he beat Turkey's Sahin Ramazan who won gold at the Beijing Olympics 2008.
If Sushil Kumar wins gold today, he will be the first Indian athlete to win two individual medals for the country. Earlier, he won bronze medal in Beijing Olympics 2008.