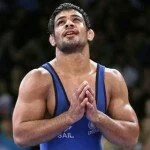 According to latest news from London Olympics 2012, Japan's Tatsuhiro Yonemitsu won the Olympics 2012 wrestling gold medal in men's 66-kilogram freestyle, beating Indian wrestler Sushil Kumar to give the Japanese their first Olympic gold in the sport in 24 years.
Japan's Tatsuhiro Yonemitsu created history by winning gold in Olympics, earlier; Mitsuru Sato won gold at the Seoul Games in 1988 for his country.
Tatsuhiro Yonemitsu beats Indian wrestler Sushil Kumar 1-0, 3-1 in the first gold-medal match featuring an Indian wrestler. Yonemitsu was the runner-up at the world championships in last year.
With this win, Japan bags fourth gold in the ongoing London Olympics 2012.
On the other hand, Sushil Kumar wins silver medal, and this is the second silver for India in 2012 Olympics.