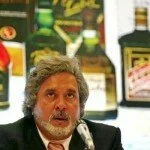 As per recent news, Vijay-Mallya's UB Group is going to sign a deal with the world's largest spirit group maker Diageo for sale of United Spirits Ltd Stake, hoping to keep on track its debt-laden Kingfisher Airline by raising funds.
Suddenly as the news released, shares of United Breweries hit 52 week high as much 6 per cent to Rs 1,425 in early trade on the BSE on Friday following the Diageo- USL deal worth $3.2 billions.
Market reacted with triple gain on a possible deal with Diageo that hopes to be signed today, gaining Diageo over 51% share in USL , the flagship liquor company of Mallya's United Breweries Group. It will be offering a chance to Diageo to set and hold control over Indian market as the world largest spirits maker.
As the deal with United Spirits, the world's second largest spirits maker, has signed, it will raising a new hope for Mallya as a chance to rebirth its debt ridden KFA by reducing  $1.6 billion debt and accumulated losses of Rs 9,000 crore.
However, shares of KFA also gained 3.34 % following report of stake sale in United Spirits, hoping funds inflow along with company's Thursday announcement to work on a well recovery plan for KFA to resume flight operations.