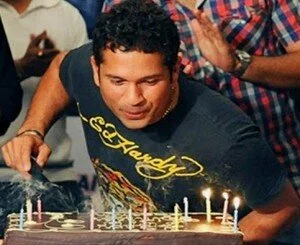 Today is a very big day for millions of fans of Sachin Tendulkar, the master blaster has turned 39-years-old today. At present, Sachin Tendulkar is in Mohali to play their Indian Premier League match against Kings XI Punjab.
No big celebration have been planned by Sachin oh his 39th birthday, but his die-heart fans are celebrating his birthday with full of joy and happiness.
Master blaster Sachin Tendulkar arrived at Mohali airport with his wife Anjali, but their two children were not with them.
Sachin is playing for Mumbai Indians and he arrived in Mohali to play IPL match on Wednesday.
An official from Mumbai Indians told media that the hotel where Sachin and his Mumbai Indians teammates are staying have arranged a party to celebrate his 100 international hundreds in the International cricket, but it would be a low-key party.
A sporkesperson from Mumbai Indians said, "There may be a small function, but nothing grand. Tendulkar is a very private person and we are not expecting the event to be a bash. It will be a small function."
Reports have also said that MI owner Nita Ambani would also take party in the party.
However, talking to media, one of Sachin's fan, Tanya Mittal said, "We are a group of friends studying in a college. All of us have placed order for a 10-kg cake to celebrate Tendulkar`s birthday. All our friends will be joining us and a big party will be thrown as it is his first birthday after he scored his 100th century recently."
In 2011, Sachin did not celebrated his birthday after the demise of his spiritual guru Satya Sai Baba.
Meanwhile, Sachin has so far scored 51 hundreds in Test Cricket laying 188 matches and 49 ODI hundreds from 463 matches. He has spent around 23-years of his life in the International cricket.
From the complete team of NewsTopNight, Happy Birthday Sachin Tendulakr and we all wish you all the very best for the coming matches and health fitness.
Here Comes Some Fresh Images of Sachin Tendulkar Birthday