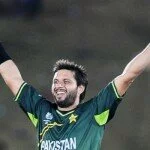 The Pakistan cricket board has announced the names of Pakistan cricket team for Twenty20 and ODIs against India later this month. However, Pakistani captain Misbah-ul-Haq said that he wanted Shahid Afridi for India tour.
Source said that selector had tough time to select the team and finally selected Imran Nazir to tour India. Talking to media, a source said, "Misbah who captains the one-day squad wanted Afridi in the squad at the cost of Umar Akmal but the selectors rejected his suggestion."
Further, source said, "Misbah's argument was that Afridi remains a match winning player despite being out of form and his experience would count for a lot in India under pressure and secondly that his presence would put pressure on the Indian side given his past performances."
However, sources said that selector said that Afridi has no place in the team. Source said, "Misbah's argument was also that since they had retained Afridi in the T20 squad he should also be given a chance in the ODI squad."
The source said, "There were people who wanted the selectors to give Nazir another chance but the selectors insisted they wanted to give a chance to Ahmed Shahzad"
It is said in news that selectors had told Afridi that the two Twenty20 matches in India is important for his place in the Pakistan cricket team for future.
In addition, all-rounder Abdul Razzaq or fast bowler Mohammad Sami is unable to get place in the team. The source said, "In Razzaq's case it appears as if he has been punished for having made the public comments about Hafeez's captaincy after the team returned from Sri Lanka."
Source added, "That is why Asad Ali has been chosen as he is a good medium pacer and capable batsman and performed well in the recent national T20 championship taking 15 wickets."