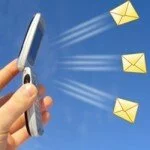 According to latest news, Supreme Court has ordered the Bharti Airtel to restore SMS services to the Aircel in the coming 24 hours.
In addition, Aircel has agreed to pay 10 paise per SMS to Airtel.
Further, the Supreme Court said that this would be the subject to the condition that from Monday, Aircel would pay Airtel in terms of demand latter dated from October 25 and pay 10 paise per SMS.
In the meantime, Aircel had challenged the sectoral Tribunal TDSAT's verdict announced on September 24 had rejected its plea against Bharti Airtel on the issue.
The termination charges are paid by an operator from whose network calls or SMS originate to the one on whose network these communications end
The major difference have been occurred between Airtel v/s Aircel, Airtel v/s Reliance Communications and Vodafone v/s Tata Services and the point of differences is termination charges.