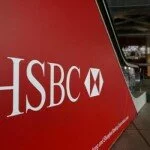 The British banking giant, HSBC has been fined $1.9 billion by British tax authorities for violation of American laws -the Bank Secrecy Act and the Trading with the Enemy Act, being accused of money-laundering case.
A settlement deal of $1.9 billion with U.S. authorities, HSBC will escape from a legal battle that bows for its biggest embarrassing foray into the international market.
According to reports, the probe has focused that HSBC has transferred billions of dollars on behalf of nations such as Iran and Mexico, which are under international sanctions.
Further added that the British largest bank supported terrorists and drug dealers access as transfers funds via US system from Mexican drug cartels for funding criminals living.
HSBC will also pay a civil penalty more than $650 million, sources said.
Probe against Europe's largest bank had launched in earlier November by US federal and state authorities over money-laundering allegations against HSBC. The allegations are reported to be same as of in the Senate probe against HSBC that indicated bank's involvement in money laundering and terrorist financing.