Gujarat Chief Minister Narendra Modi is the very dynamic leader, according to US Congress delegation much impressed by Modi's 'minimum government maximum governance'.
The United States of America is reportedly invited the BJP's strongest person Modi to visit in US, marking a big hit in the political history.
Modi whom the country has in the past been denied a visa following his alleged role in 2002 post-Gujarat riots, has impressed US Congress delegation with his style of governance.
This is the first time that US Congressmen met Modi, during their India trip with government officials, MPs and business leaders , reports said.
Republican Congressman from Illinois Aaron Schock, leading to an 18-member delegation, met Mr. Modi, following their visit to Sabarmati Gandhi Ashram in Ahmedabad.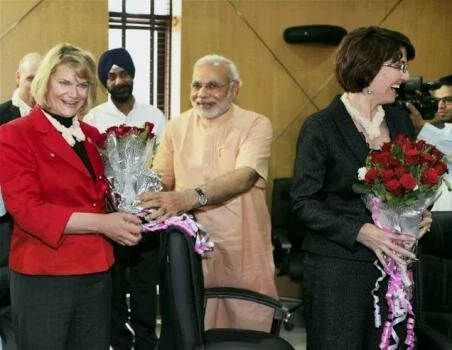 "We will work with the US State Department. We will be pleased to have Modi in US. We will continue to work towards making Modi's visit happen," Congressman told reporters.
Modi welcomed the U.S. delegation with his much appreciated and Gujarat development oriented speech.
The strongest man who is being seen as one of the most serious contender to be Prime Minister of India in 2014 thanked US delegations and later tweeted, "Am thankful to the members of USA Congress & business persons for their kind words on Gujarat's development."