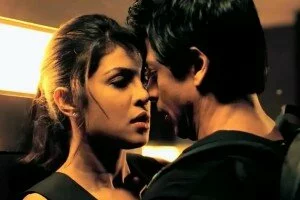 DON 2 that has been casted with a team of Shah Rukh Khan, hottest actress Priyanka Chopra , Lara Dutta , Om puri and Boman Irani , disappointed the audience.
Shahrukh's DON 2 , the Sequel of his 2006 film, which was itself a remake of the 1978 Amitabh Bachchan starrer, is directed by Farhan Akhtar who was very confidently said in his interview that viewers seeking anything other than pure thrills and entertainment from this film.
But the reaction of the audience is really negative and their expectations are to be gone fall. There are many problems in Don 2, the major one is its lazy writing.
This is the kind of film in which a most-wanted international criminal protagonist (Shah Rukh Khan) can roam around a prison unsupervised, so he can smuggle deadly chemicals into the premises, and poison the inmates' dinner. The idea is to be taken from Ocean's eleven and the Mission Impossible movies.
However it is indicating that because of its lazy writing and having more dialogues than actions and also having sick action thrilling , it seems to be a boring film which has no fun and X factor that allow public to come one more time.
The over all performance of the movie is based on Shahrukh khan. His attitude, sweet smile and has a mischievous dialogues speaking act, all are seen in this DON 2.
He speaks dialogues in this movie like "Touché" and "Kya karen sweetheart, we are everywhere" (in response to Lara Dutta's startled look) and he speaks in third person spouting statements like "Don ko pakadna mushqil hee nahih, namumkin hai," and "Don apne doston ka haal puche na puche, apne dushmon ki khabar hamesha rakhta hai."
In the whole cast team Boman Irani returns as Don's nemesis Vardhan, who has been enlisted to help him on the new job. Lara Dutta is his fetching moll, Kunal Kapoor a hacker handpicked for the assignment, and Aly Khan an influential banker blackmailed into volunteering his services. Priyanka Chopra is Interpol officer Roma, who has some unfinished business with Don.
Although there are fast cars and bike stunt, explosions, a globetrotting adventure that kicks off in Thailand, moves to Malaysia, and then unravels in Europe, all are more stylish and adventurous, but getting 3 stars out of 5, DON 2 is slowly downing in box office.