India beats England in the 4th ODI played at Mohali on January 23 by five wickets and the hero of the match was opener Rohit Sharma, hitting superb 83 runs.
Captain MS Dhoni praised opener Rohit Sharma for his valuable contribution in team India's win over England and described him as the 'most god-gifted talent around'.
During a post-match press conference, MS Dhoni said, "I am glad he (Rohit) scored runs because he is one of the most god-gifted talent that is around. Of course an innings like this was very much needed for him. It will give him a lot of confidence and also time at the top level. Personally I am very happy for him."
He said, "We all felt he is someone who can be a really good opener in the sense he cuts and pulls really well. Also with two openers you want one of them to be slightly aggressive than the other I think he accepted the challenge in the sense he also felt he got into the side because Manoj was unfit. So it was an opportunity for him. The good thing was he took it as a challenge."
When media asked MS Dhoni, if Rohit fails to perform in next matchs, Dhoni said, "That's a difficult one. It's very important to think and go in one direction, not only as coach and captain but also with the selectors because at the end of the day, mutually we decide who is the best available talent and you have to give those guys a bit of a rope."
Dhoni said, "I don't know what would have happened if he had not scored runs or in any other scenario. The best that we could have done was give him another chance in Dharamsala and then see because we are not playing too many ODIs after that. We all felt he is very talented, he got an opportunity in last series in Sri Lanka where he got a few good deliveries."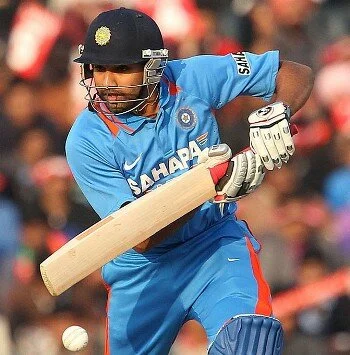 Dhoni said that it is hard for Rohit Sharma to get place in the middle order as others are performing well and the opener slot is the open open position in team India.
He said, "If you look at it positively, it was a challenge that was thrown on to him and he accepted it because he knew it would be difficult for him right now to get a place at 5, 6, 7. Virat is doing well really well at 3 and then you have Yuvraj and other batsmen who are doing quite well. So the only opportunity was to open."