According to latest political news, the BJP will today hold a nationwide protest from Thursday against the Home Minister Sushil Kumar Shinde on his 'Hindu terror' remarks.
The decision to hold nationwide protest was announced by newly elected BJP President Rajnath Singh on Wednesday.
Addressing party workers on Wednesday after being elected as the party Chief Rajnath Singh said, "The recent statement of Shinde shows the government is not serious on its fight against terrorism."
He said, "Just for vote bank politics, they are poisoning the atmosphere of the nation with communalism. We condemn the statement."
Rajnath said that the BJP will hold nationwide protest against the Home Minister's remarks.
Earlier in his speech in Jaipur, Home Minister Sushil Kumar Shinde cracked a controversy by accusing BJP and RSS of conducting terror training camps and promoting "Hindu terrorism".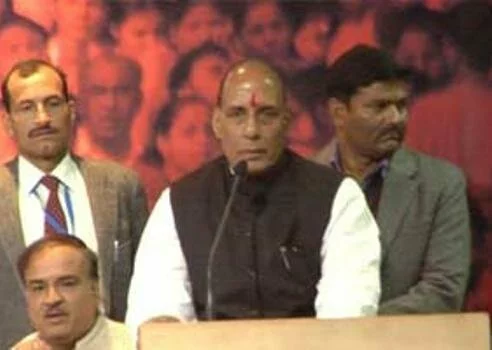 Shinde said, "Bombs were planted in Samjhauta express, Mecca Masjid and also a blast was carried out in Malegaon. In all these incidents, the involvement of right-wing extremist groups is suspected."