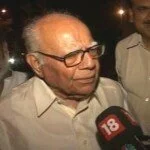 The Bharatiya Janata Party (BJP) had suspended its senior leader Ram Jethmalani, veteran lawyer and Member of Parliament (Rajya Sabha), on Monday the former BJP leader said in media that party decision will neither affect his stand nor his seat in the Rajya Sabha.
When media asked him that BJP had suspended him with 'immediate effect', Jethmalani said, "I am totally indifferent, whatever they do, doesn't bother me in the list. No body can take away my seat from Parliament."
He said, "I am 100% sure that there are many more, many more but all don't have the capacity to speak the truth publicly and openly."
Earlier on Monday, Jethmalani said that BJP President Nitin Gadkari should resign from his seat after the corruption allegation and he would urge BJP leaders to stand strong against Nitin Gadkari.
BJP suspended Jethmalani on Sunday after he said in media that Nitin Gadkari should resign from his President position.
He is also not happy with the appointment of new CBI chief Ranjit Sinha. Jethmalani also made controversial remarks about Hindu Lord Ram
BJP top leaders will hold meet on Monday to discuss on the ongoing rebellion within the party.