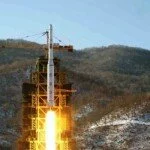 Amid condemnation of other nations, especially U.S fearing of nuclear warhead, North Korea has successful in launch of a long-range rocket 'Unha-3' is orbiting normally.
Marking NKorea's rocket launch as the most significant move in capital Pyongyang's intercontinental ballistic missile (ICBM) long plan, hundreds of thousands of North Koreans- soldiers and civilians rallied today.
Just ahead of the first anniversary of Kim Jong-Un's taking over the ruling and the death of new leader Kim Jong-Un's father, all positioned in the square were in cheering mood glorify the country's young ruler with organizing choreographed show of defiance, media information said.
After April failure, this is the second North Korean long-range missile test which conducted under the rule of Kim in defiance of international warnings, helping to consolidate the power.
US condemned North Korea's launch as 'provocative' and breach of UN Security Council sanctions that enable it nuclear capable state .
The younger leader Kim who had personally signed off on the rocket launch the chance "to take his country back into the 21st century", US criticized him not to do with "wrong options".
As per North Korea, the launch was to place a satellite into orbit to study crops and weather patterns, not any purpose to be nuclear capable state.
In history of North Korea, it is the first successful use of a three-stage rocket for which, according to source, Kim stressed the need "to launch satellites in the future… to develop the country's science, technology and economy".  Moreover, North Korea will have to conduct further more nuclear launches in the next phase.