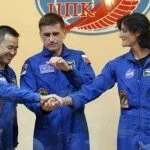 According to latest reports, the Indo-American Sunita Williams has today taken off her second space odyssey. Earlier, Sunita Williams had lived and worked in the International Space Station [ISS] for six months in 2006.
As per the statement released by NASA, it said, "The spacecraft carrying the 46-year-old Williams blasted off from the Baikonur Cosmodrome in Kazakhstan at 8.10 am today with Flight Engineers Yuri Malenchenko of the Russian Federal Space Agency and Akihiko Hoshide of the Japan Aerospace Exploration Agency."
Meanwhile, the three space crew members will join the Expedition 32 crew on board the International Space Station when their Soyuz TMA-05M spacecraft will finally dock in the orbit by Tuesday.
Further, NASA said that Sunita, a flight engineer, along with her other crew member will be having a busy period and will hold two spacewalks, the arrival of Japanese, US commercial and Russian resupply vehicles, and growing research in the space.
In the meantime, Sunita Williams basically belongs to Gujarat, and was selected as an astronaut contender by NASA in 1998. Sunita then shifted to the International Space Station as a member of Expedition 14 and later joined Expedition 15.
Before her second space launch, Sunita Williams said, "I'm just looking forward to seeing the full capability of the space station, it's an experiment, not only the things that we're doing inside but also all the engineering that has gone into allowing us to dock new vehicles, do space walks, Russian and US. So, it's a pretty complicated vehicle now and I'm looking forward to being part of it."