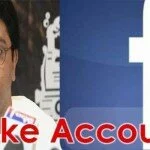 Acting quick on the complaint by MNS chief Raj Thackeray, the cyber cell of the Mumbai crime branch had blocked the face Facebook accounts of his daughter Urvashi and son Amit Thackeray.
Earlier, Raj Thackeray approached the Mumbai police after MNS party members brought into notice that there were face Facebook accounts of Urvashi and Amit on Facebook, the largest used social networking site in the world.
However, the city police said that they are yet to trace the IP address to get to know that who made the fake accounts. Talking to media, police official said, "We have blocked the accounts on the social networking site as soon as we were informed."
It was the intolerable material posted on the face Facebook accounts about Dr Babasaheb Ambedkar and even later Shiv Sena chief Bal Thackeray and his party that irked MNS members.
In the meantime, the Mumbai police have sent a request to Computer Emergency Response Team (CERT) about the fake Facebook accounts to help them to trace the IP addresses of the computers.
In such face accounts, the cyber crime cell first approaches the service provider to block the face accounts and if doen't works they approach to CERT and ask them to block the face accounts.