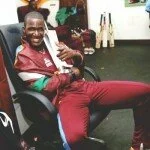 The proud West Indies captain Darren Sammy yesterday after match that their team can now beat any good opposition in the International cricket.
West Indies recorded a superb win against Sri Lanka, beating them by 36 runs in the finals of ICC World Twenty20 finals played at Colombo's Premadasa Stadium.
Sammy said, "We're not trying just to compete any more, we believe we can win against good opposition."
He said, "We showed signs of that in the last year or so, but we were not winning. Hopefully, this can be the start of something good for the West Indies team and the people."
On the other hand, the Carribean team kept on dancing after winning finals against Sri Lanka. Chris Gayle and Pollard lead the dance from the front.
Man-of-the-Match winner Marlo Samuels said, "It's Bravo's birthday."
He said, "Happy to score runs when the team wins. Happy birthday Bravo," screams Gayle. "I guess we didn't disappoint."
Further, bowler Narine said, "I think playing the final, coming out on the winning side, it's a team effort."
Pollard says that celebration when Samuel took his first wicket was the team showing its appreciation for him.
Dwayne Bravo: "We had the belief, we had some of the better players in our team. It was just a matter of getting our heads together."
Scoreboard
West Indies: J. Charles c Kulasekara b Mathews 0 (5b), C. Gayle lbw b A. Mendis 3 (16b), M. Samuels c J. Mendis b Dananjaya 78 (56b, 3×4, 6×6), D. Bravo lbw b A. Mendis 19 (19b, 1×6), K. Pollard c Dananjaya b A. Mendis 2 (4b), A. Russell lbw b A. Mendis 0 (1b), D. Sammy (not out) 26 (15b, 3×4), D. Ramdin (not out) 4 (4b); Extras (lb-2, w-3): 5; Total (for six wkts. in 20 overs): 137.
Fall of wickets: 1-0 (Charles), 2-14 (Gayle), 3-73 (Bravo), 4-87 (Pollard), 5-87 (Russell), 6-108 (Samuels).
Sri Lanka bowling: Mathews 4-1-11-1, Kulasekara 3-0-22-0, Malinga 4-0-54-0, A. Mendis 4-0-12-4, Dananjaya 3-0-16-1, J. Mendis 2-0-20-0.
Sri Lanka: M. Jayawardene c Sammy b Narine 33 (36b, 2×4), T. Dilshan b Rampaul 0 (3b), K. Sangakkara c Pollard b Badree 22 (26b, 2×4), A. Mathews b Sammy 1 (5b), J. Mendis (run out) 3 (3b), T. Perera (run out) 3 (5b), L. Thirimanne c Charles b Sammy 4 (7b), N. Kulasekara c Badree b Narine 26 (13b, 3×4, 1×6), L. Malinga c Bravo b Narine 5 (13b), A. Mendis c Bravo b Samuels 1 (2b), A. Dananjaya (not out) 0; Extras (lb-2, nb-1) 3; Total (in 18.4 overs): 101.
Fall of wickets: 1-6 (Dilshan), 2-48 (Sangakkara), 3-51 (Mathews), 4-60 (Jayawardene), 5-61 (J. Mendis), 6-64 (Perera), 7-69 (Thirimanne), 8-96 (Kulasekara), 9-100 (A. Mendis).
West Indies bowling: Badree 4-0-24-1, Rampaul 3-0-31-1, Samuels 4-0-15-1, Gayle 2-0-14-0, Narine 3.4-0-9-3, Sammy 2-0-6-2.
Man-of-the-match: Marlon Samuels.
Player-of-the-tournament: Shane Watson.