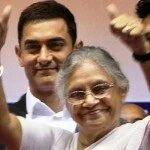 The Delhi Chief Minister Sheila Dixit has requested Bollywood actor Aamir Khan and Star India CEO Uday Shankar to bring the second series of TV Show Satyamev Jayate, which raised some very serious social issues and created awareness.
The Mr. Perfectionist Aamir Khan and Star India CEO were honoured for creating awareness against social favoritism with the series of their TV Show Satyamev Jayate.
Aamir Khan and Uday Shankar was awarded by the National Commission for Scheduled Castes at a function held in New Delhi.
During the event, Delhi Chief Minister Sheila Dixit said that the show has provided a platform to people to talk their problems. Sheila Dixit said, "Is show se bahut saare logon ki jo ankhein band thi, woh khuli hai (This show has been an eye-opener). It's my request to Mr Uday Shankar to bring back the show as I would want the people of this country to witness the pain again and stand against it as one team."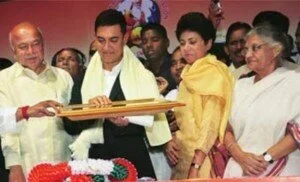 Meanwhile, number of other political leaders was also present in the show including union Home Minister Sushilkumar Shinde, Information and Broadcasting Minister Ambika Soni and Minister for Housing and Urban Poverty Alleviation Kumari Selja.
During the 13-weeks long journey of Satyamev jayate, Aamir tried to bring out some sensitive and emotional facts in front of people such as female foeticide, child sex abuse, medical malpractice, manual scavenging and dowry.
In fact, the actor also acted strongly on such issues, he met with concerned people and political leaders to resolve the problems.