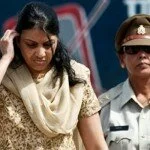 According to latest news, dentist Nupur Talwar has been released from prison on bail as ordered by a CBI court here today.
Nupur Talwar has been facing charges in the twin murder case of her daughter Aarushi and servant Hemraj.
It is said that special Judge A K Lal ordered bail to Nupur Talwar in pursuance of a Supreme Court's decision on Sept 17 and ordered that she should be released on September 25.
Meanwhile, the Supreme Court had ordered CBI to examine the remaining witnesses by the trial court, which is presently examinations proof.
However, the court ordered Nupur Talwar's bail on a personal bond of Rs 2 lakh with 2 sureties of the as much amount.
At present, Nupur was in Dasna jail located in Ghaziabad.
She is in jail since her surrender before the court on April 30. Earlier, on May 2 her bail application was denied by the special court.
On the other hand, Nupur's husband, Rajesh Talwar has been on bail since July 11. 2008.
Moreover, Aarushi, 14-years-old girl, was found dead in her bedroom on May 16-17, 2008, and Hemraj's dead body was recovered on May 17 on the terrace.