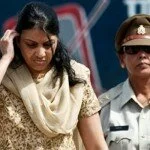 According to latest news, dentist Nupur Talwar has been released from prison on bail as ordered by a CBI court here today.
Nupur Talwar has been facing charges in the twin murder case of her daughter Aarushi and servant Hemraj.
It is said that special Judge A K Lal ordered bail to Nupur Talwar in pursuance of a Supreme Court's decision on Sept 17 and ordered that she should be released on September 25.