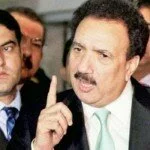 Amid controversial bow over Pak pending 26/11 trial, Pakistan Interior Minister Rehman Malik who is on a three-day visit in India on Saturday said to put an immediate action on Hafiz Saeed case.
Saeed is the founder of terrorist group Lashkar-e-Toiba and for action against him, Pak said to have need of hard and substantive evidence from India.
"If I am given hard evidence now, if it is substantive…before I leave Pakistan, I will order his arrest", Mailk told reports while asking about arrest of Saeed who is freely wandering in Pak as no action has been taken against him over 26/11 Mumbai attacks basis.
After a 15-minute meeting with Prime Minister Manmohan Singh, Malik Friday intermediate with reporters, Malik draw a comparison between Babri demolition and Mumbai terror attack, seemed to equate them.
Clarifying his statement, he recently said, "I am not trying to interfere in India's domestic issues in any way," adding that his remarks should not be seen in a 'negative' manner.
Once again on Saturday, Malik refreshed wounds of Indians, claimed that the mastermind operative of Lashkar-e-Toiba, Abu Jundal was an agent of Indian intelligence agencies.
Jundal himself admitted that he was Indian intelligence agent and Pak have seen records, Malik further added.
"Abu Jundal is an Indian. We are also curious as to how he and others landed in Pakistan. He was a known criminal. He worked as a source of an Indian intelligence agency. I am not saying this. He himself has said so. I have seen records," he said, source said.
Meanwhile, an outrage raised in India who considered that Jundal, deported from Saudi Arab was allegedly in the Karachi control room set up by the Pakistan terror outfit coordinating the terror strikes of Ajmal Kasab with 9 other Laskhar terrorists during Mumbai 2008 attacks. And fake Pakistani passport and fake Pakistani national identity card have recovered from him.