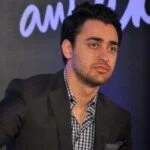 The young Bollywood actor Imran Khan has tried the job of becoming a tattoo artist.
To be a tattoo artist is not his new project role, but he opted this in his real life and has decided that he will be becoming a tattoo artist.
It is said in news, that the actor is busy doing promotions for his next film directed by Vishal Bhardwaj, and even trying drawing tattoos on girls.
A source said, "The team came up with the idea as Anushka (Sharma) will be seen sporting a very interesting tattoo on her lower back in Matru Ki Bijlee Ka Mandola. And Imran too is known to be high on tattoos and sports one himself. So when they came up with the idea of Imran turning tattoo artist, he was more than happy."
However, Imran Khan started this profession during the promotions of his last film 'Delhi Belly'. And sources said that tattoos made by the actor are instant hit, mainly among girls.
A source said, "He is very artistic so he would come up with these really innovative designs on the spot. And inspired by Anushka's sexy tattoo that she is sporting in the film, he is bound to come up with equally hip designs."