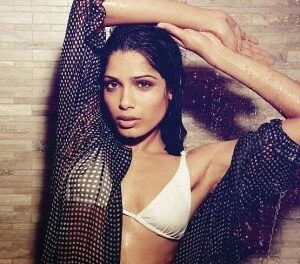 She was first recognized the fame with the super success of Bollywood film 'Slumdog Millionaire' which was released allover the world around four years ago.
Yes, we are talking about Bollywood actress Freida Pinto. The actress normally known as one of the best dressed as well as one of the 'most beautiful women in the world' lists.
However, in her very fresh photoshoot, the 27-year-old actress has come up with a completely new look. She has showed her sexy side as she posed suggestively in a vest and panties for the April issue of men's magazine 'Esquire'.
Further, the actress talks honestly about her nude scenes in her upcoming film Trishna – an Indian-set reworking of Tess Of The d'Urbervilles – in a dirty new interview.
For a short time the actress appears naked in a sex scene in the Michael Winterbottom-directed movie, though, recently admitted she enlisted a butt double for the sequence.
Talking in an interview about Esquire magazine, Freida Pinto said, "It was hard but it was a small crew, and they were good at not making their presence felt."
The actress said, "They didn't go, "Quick! She's nearly naked! Get your camera out!"
Actress Freida Pinto said, "If you're just doing a nude scene in order for everyone to, like, w*** off or something, then that's not my thing at all."