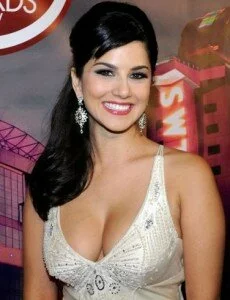 Bigg Boss-5, the reality show on Colors, co-hosted by Bollywood actors Salman Khan and Sanjay Dutt, started with 14 contestants. Sunny Leone, who is an Indo-Canadian porn star, is one of them.
While she entered into the Bigg Boss house, a huge drama had created. But now she has been left out from the house last day as last contestant to be ousted from the reality show this season.
At this time when she was very close to her destination, her eviction came. It was just a week before the finale.
Now the five members – Juhi, Akashdeep, Mahek Chahal, Amar Upadhyay and Siddharth Bhardwaj – competing for the winner's spot, are into house for final week.
Sunny is a porn star, so she feels that because of her profession, people did not vote for her.
In her whole journey of Bigg Boss house, she was always calm and seemed to be innocent and did not create much drama on the show.
Talking to media, Sunny said, "I feel sad that I couldn't make it to the final after being so close. I don't think it's because of my work that people didn't vote, but probably because I didn't create much controversy or pick up fights."
Sunny Leone, 30-year-old, did not make huge friends in house , her fellow contestants Akashdeep Saigal (Sky) and Juhi Parmar were her good friends.
While asking about her low profile, she said, "I am lucky to have made two good friends in the house. When I came in I didn't think that I will stay in touch with anybody but I will keep contact with Sky and Juhi."
"It was bitter-sweet. I made two good friends but the fighting and arguments in the house would depress me at times. I have never seen people fighting so much. And I am happy that I kept my sanity and didn't get involved in any of the fights," she shared her experience in Bigg Boss.