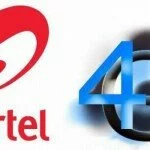 India largest leading mobile phone company Bharti Airtel is now seeking the government's approval to test voice services on 4G networks.
The company has recently acquired a 49 percent stake in US chipmaker Qualcomm's 4G spectrum, permitting to launch 4G services in 8 major circles. Airtel, the only company presently is offering the fourth generation data services, seeking to be the first to launch a voice connection on a 4G network, joining its data services with voice service.
Another player, Reliance Industries-owned Infotel Broadband is also in race of testing voice service in the technology platform, reports said.
It further added, Reliance -owned Infotel has requested the telecom department's DoT's to allot 10,000 numbers for 4G services to test voice, expected to get approval very soon. Reliance owned Infotel has pan-India 4G airwaves and is to be launched 4G LTE network.
Still, yet DoT does not allow 4G spectrum winners to offer voice services, but both players are sought to keen interest to offer all forms of communication services with a unified licence, as per new regulations.