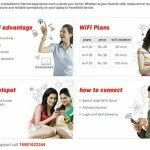 India's leading telecom Bharti Airtel has come up with another prepaid WiFi Hangout hotspot service, following its 3G Data Sharing Plan earlier this month.
Customers now access Airtel's broadband internet on their Wi-Fi enabled devices like Laptop, tablet or smartphone anywhere in the range of Airtel Wi-Fi hangout.
Airtel's public WiFi hotspots can be accessed by users after activation of 'Airtel Wi-Fi Zone' vouchers just with prepaid plans begin at Rs.20 for 30 min, Rs.30 for 60 min and Rs.50 for 120 min of unlimited usage.
After that selection of "Airtel WiFi zone" – a city or location near their Airtel public Wi-Fi hotspot, that can be brose from Airtel store or online. There are no details regarding what speed Airtel will provide.

Currently, Airtel has launched its new prepaid WiFi hotspot in three cities/regions namely Mumbai, New Delhi and NCR and Bangalore.
The paid WiFi hotspot service is no new in India, but not much popular due to lack of a wide commercial push. And Airtel seeks to grab opportunity, installing its WiFi hangouts to even expand its services with kick start of new competition in market.