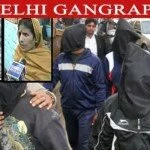 In yet another breakthrough in the brutal gangrape of a 23-year-old girl in a moving bus in New Delhi, one more person has been arrested by the police.
Though, the police have not yet disclosed any information about the name of the accused.
Meanwhile, Delhi Police has already arrested the driver of the bus, Ram Singh, in which the crime took place.
In addition, Vinay Sharma, an assistant gym instructor and Pawan Gupta, a fruit seller, were arrested from New Delhi, while Ram Singh's brother Mukhesh was arrested by Police from Rajasthan.
Earlier, on Sunday night, seven persons had allegedly gangraped the 23-years-old para-medical student and hit her male friend with rods in the moving bus.
On Thursday, one of the accused have been identified by victim's male friend during the TIP at Tihar Jail in New Delhi.
And, on Friday, today, the Delhi police will submit its status reports in the High Court.