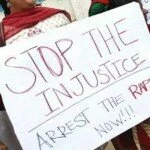 Just within few hours after Assam Chief Minister set a deadline for police to arrest accused men who molested a 16 years old girl, another sexual harassment incident attack a teenager.
Shameful fact is that this time the alleged molesters are of Army jawans.
After recent molestation of a girl by a mob of 13 men, shocking the whole nation, a teenager met the same fate allegedly at the hands of Army jawans in upper Assam's Sibsagar district, police told reporters.
Sibsagar additional superintendent of police S K Dutta said, yesterday, the assaulted girl had gone to a forest near Nitaipukhuri in Demow to collect firewood where Army jawans headed by Lance Naik were posted on duty to flee from the spot. As she was molested by Naik and his team, the girl cried and asked for help, reports said.
After hearing her cries, the local villagers rushed to the spot and succeed to free the victim from the clutches of accused Army jawans.
However, Army has totally denied the allegations and told reporters that there was no information on the matter with them.
It is really shocking for that as the area where such much embarrassing incident happened is likely flood affected, and for assistance the camp of the army was set up.
This is the second case after recent one happened on July 10 in Guwahati. Shame on that those set for safety of citizen, are who badly assaulted them.