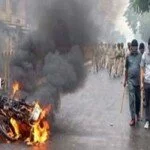 Amid controversial ethnic Bodo-Muslim clashes in July which followed for ten days, a fresh violence ourbreak in parts of lower Assam, killing 5 people by bullets wounds- 3 bodies found in Chirang and two from Kokrajhar district.
Hitting a total death toll to 61 on Sunday, clashes has alerted much hyper tension in affected areas, Muslin people come on streets and protesting for killing people. Issues of land rights, migration, ethnicity and religion have been the major reasons of clashes that have been striking out since the mid-1980s.
Indefinite curfew has been called in affected areas of Assam and additional police forces including para military have been rushed to these areas.
As per police report, one person is reported missing, while bodies of three men- father and his two sons – who had left the camp for displaced persons at Chirang district yesterday, were found today.
"They left the camp without informing anybody and without any security. Since then they were untraced. Today we found their bodies at Borlangshu village at Chirang district," Chirang Superintendent of Police Kumar Sanjiv Krishna said on a statement.
Moreover, there is controversy between both groups. All India United Democratic Front (AIUDF) accused Bodoland Territorial Council to contribute the ethnic violence.
Bodos who covering constitute just 29 per cent of the population in the Bodoland Territory Areas District (BTAD), are alleged to ousted clashes to "make the non-Bodo population less than 50 per cent of the total population of BTC controlled areas", as per AIUDF president Maulana Badaruddin Ajmal, source said.