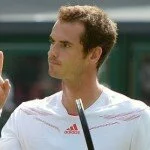 The Britain No. 1 Andy Murray quelling Switzerland's Roger Federet's challenge with 6-2, 6-1, 6-4 in men's singles final at Wimbledon gold medal match at the All England Lawn Tennis Club today.
Stunned Olympic gold medal at 2012 London Olympics by Murray is called as revenge time as on the same Centre court last month Murray had defeated by Swiss on the Wimbledon final and recorded 17th grand slam title. But Sunday's victory in three straight sets the balance equal between Murray and Roger.
With a armed king form, Murray cheered his fans by beating the world number one, giving the biggest worsen gift to the World No. 1 Roger Federer, on his birthday as his birthday is come on August 08 and his defeat spoiled all the celebration moments.
Sunday's hunt match is the biggest worse moment of Federer's life as it closed the doors for him to complete his "golden career slam" as well as Olympic singles crown. Reason is that in upcoming Olympic Games that moves on to Rio de Janeiro, Federer will be of 34.
Source said, while Murray moved 4-2 ahead in the first set he barely gave Federer a look-in, rattling off nine games in a row to seize complete control of the final and went for the third set. He set a 3-2 lead with a searing backhand and marched on to victory.
Now Murray next haunt match will lead to huge expectations to become the first British tennis player to win two gold medals in mixed doubles final with Laura Robson