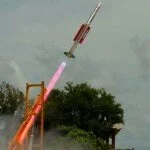 Just bone day after the prefect trial of 'Astra' air-to-air missile, on Sunday the Indian army has test fired its indigenously developed beyond visual range (BVR) air-to-air missile from the Integrated Test Range at Chandipur, 15 km from here.
Giving information to media, defence sources said, "The sophisticated missile was test-fired from a launcher in launch pad-2 of the ITR at about 3.34 PM targeting a flying object being supported by a pilot less target air-craft 'Lakshya'"
Further, ITR Director MVKV Prasad said, "The trial was successful. All mission objectives and parameters were met."
Further, the defence scientist said that the Astra's successful test-fire was significant as it came a day after a similar trial conducted from the same base on Saturday.
Meanwhile, the single stage, solid fuelled Astra missile is much more developed version as compared to the contemporary BVR missiles.
Astra missile is capable of engaging and destroying highly manoeuvrable supersonic aerial targets.
The 3.8 metre long missile, having a diameter of 178 mm with an overall launch weight of 160 kg and it can carry a warhead containing conventional explosives weighing 15 kg. It can be fitted to any fighter aircraft.