An Audi R8 super race car caught fire and burnt to ashes shortly at PARX super car rally near Rajib Gandhi Bandra-Worli sea link in Mumbai on Monday.
The car Audi R8, costing Rs.1.8 crore burnt during prestigious two-day Fifth Mumbai Parx Supercar Show-2013 from the Mahalaxmi Race Course.
However, cause of the fire was unknown, but the company said that fire might have due to some modifications made to the car which heat its engine enough caused catch fire.
Audi R8 was totally damaged, only small parts are used to identify it.
As the fire broke out shortly, fire brigade rushed there and prevent incident from any casualties.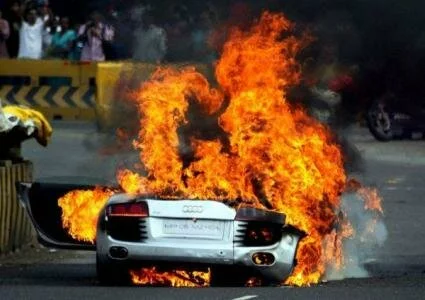 Two persons travelling in the car including car driver came out safely, reports said.
Over a hundred of the most expensive cars took part in this sport rally and organisers denied the luxury model was a participant.
Although investigations are carried on as it was not immediately clear that whether the burnt Audi R8 was part of the car show.
Audi R8 is the latest launched model of the luxury car maker company which has featured Bollywood upcoming movie 'Race 2'.