According to latest news, India on Sunday successfully test-fired the underwater ballistic missile, K-15 (code-named B05) near Visakhapatnam, making ways for India to next level of developments.
It was its 12th flight trial and the 10-metre tall Submarine-Launched Ballistic Missile (SLBM) raised to an attitude of 20 km and hits the target of 700 km as it hits the target in the waters of the Bay of Bengal.
Talking to media, the scientific advisor to the Defence Minister V.K. Saraswat said, the missile was tested for its full range of 700 km and the mission is accomplished. He added that the complete accuracy of the missile was in single digit.
Moreover, the new K-15 missile will be loaded with the INS Arihant, the indigenously-built nuclear submarine.
It is said that around 12 nuclear-powered missiles each weighing 6tonns will be loaded on the INS Arihant.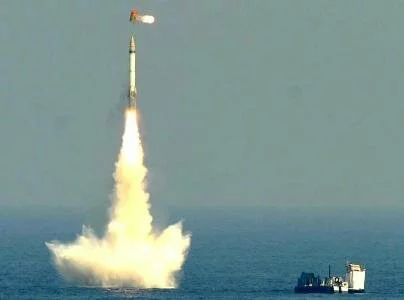 Further, India is the only 5th country in the world to have such missile and the others are USA, Russia, France and China.
Inspite of INS Arihant, three more nuclear-powered submarines were being constructed — one at Visakhapatnam and two at Vadodara.
Now, India is developing K-4 missile with a range of around 3000 km.