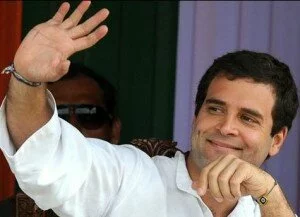 Having bad performance in the last assembly elections, Congress party has hardly born this loss; even it has losing its base in many states.
To avoid such worse thing, the Congress general secretary Rahul Gandhi has started his advance preparation for future the 2014 Assembly elections and decides to tour the states especially Maharashtra to boost the grass root cadre and assist party preparations.
In his first political visit in country's financial capital Maharashtra, Rahul interacting with the NSUI delegates in a closed door meeting at Bhaidas Hall in suburban Vile Parle and said, "I plan to undertake constituency-wise tours to take a first hand view of the party's strengths and weaknesses. I will come more often here."
A source of second year BBA student of SSGM College from Shirdi reportedly said pipped the Congress' base by NCP at the grassroot level was the worries of Rahul.
"NSUI was the entry point to politics and the parent Congress party. Strengthen this organisation ..do good work, which in return will give you a better platform in politics," he told Rahul.
Rahul's meeting with Youth Congress elected representatives based on zero tolerance to corruption and punished corrupts.
Rahul was told that since Ajit Pawar had taken charge of the NCP in the state, the party was steadily increasing its base at the grass root where as the Congress was identified with scams.
"The work will be evaluated and marks would be given. Good and meritorious workers will get enough chance to prove their mettle in politics," Rahul told Youth Congress activists to identify their area of work and compile it on the Youth Congress website.