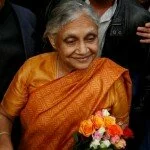 Congress party has defeated continuously over Municipal Civil polls in Mumbai and Delhi, is now blaming all this for several current issues and controversies that are created and arise around the party.
Congress hit with a great disapproval by the public in form of voting and this is due to Anna Hazare's Campaign in Delhi against Rahul and Congress party as per party leaders said.
After the loss in the state, Chief Minister Shilela Dikshit said, "It (Congress) needs to get in touch with people. Contact with people must continue."
When asked a question on what the Congress needs to do to improve its chances in Delhi, she said, "The disconnect is not cross the board, but it is one thing we need to pay attention to."
Talking about party performance in Civil polls, Congress MP from East Delhi Sandeep Dikshit said, "We could not separate the slightly anti-Congress environment that was built up due to 2G scam."
"And BJP because of the overall general climate that was there in the country and in Delhi, focused on price rise and 2G spectrum scam," Dikshit further added.
Anna's movement is surely affect the number of votes for Congress but one fact that affected polling results was of CAG reports against the party and price rise.
Due to all these, Congress image has been described as a wrong corrupt party government that only wants power and money in their stores.
However refusing a repeated series regarding party bad performance in upcoming polling, party's leaders ensured to be win in 2013 (assembly) and 2014 general elections, both in Delhi and Mumbai.