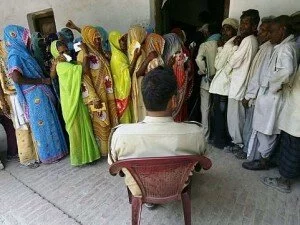 Third phase of Assembly election in Mayawati's ruling State Uttar Pradesh has begun today at 7 a.m.
The fate of 250 candidates in which three cabinet ministers, a minister of state, 29 sitting MLAs and 14 former ministers will be sealed on Wednesday.
The contest for elections is for 56 assembly seats in 10 districts among 1,018 candidates. The toll of women candidates is 77 and 121 candidates with a criminal background. It is expected that 1.77 crore voters will be voting to cast their ballots.
Along with state chief minister Mayawati's govt. Bahujan Samaj Party, Bharatiya Janata Party, Congress, Nationalist Congress Party and Samajwadi Party, all top party leaders are contesting in this phase.
Mayawati's govt. is ruling from five years and dealt with several corruption scandals and allegations of criminal activities against its ministers.
Now other opposition party leaders from the Samajwadi Party (SP), the BJP and the Congress are under pressure to win atleast one seat in these Assembly elections by improving their tally.
However a peaceful polling in second phase with 60 % turnout of the 1.92 crore voters on Saturday was held for the 59 seats over nine districts of the Uttar Pradesh assembly elections. And now all are waiting for counting of polls in third phase that will give a successful ahead to the contesting parties.
The most high-profile of 10 districts in third phase is Amethi. Congress representative Priyanka Gandhi has campaigned there for getting support of voters. A big motive behind this is that Amethi is seemed as the parliamentary seat of Rahul Gandhia and Gandhi family bastion does not want of loss this opportunity.