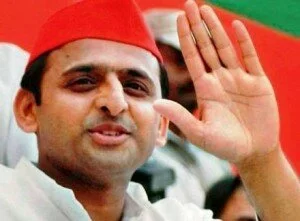 The Samajwadi Party's youth, Akhilesh Yadav, dismissing his plan for chief minister's post, said that his father Mulayam Singh Yadav would be the UP chief minister who was more deserving and prominent as comparison to him.
Mulayam's party has won by 224 seats on its own in the UP state as a landslide victory in elections to the 403-seat state assembly, more than 2007 when it won only 97 of the assembly's 403 seats.
Addressing all credits to party's leaders who gave a huge support to restructure it, junior Yadav said, "I am not in the race for the chief minister's post. The party feels that the responsibility should go to Netaji."
Be a forefront of party, Akhilesh had arranged the media and articulating the party's views and strategies that outcome show as party victory.
Attacking on state ruling chief sinister Mayawati's govt., he criticized, If only she had spent all the money she spent on erecting statues on the state's development, it would have been good."
Now this time SP's govt. comes in existence in UP and it seems that all the Mayawati's statues that constructed during her five years ruling in UP, wasting a huge amount of govt. money on it, may be damaged.
He said the parliamentary board would meet Wednesday and will stake claim for forming the government in the state.
If we compare UP voting with Punjab, we exclaimed that UP polling dealt with a great differences between a big winner as the Samajwadi Party and also a big looser as Mayawati's Party.
Moreover Mayawati's govt. has ended and younger Akhilesh Yadav with his father Netaji who would don the mantle as Uttar Pradesh chief minister, will rule their party on State.