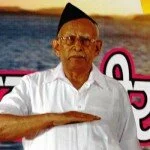 According to latest news, the former chief of the much known Hindu organization the Rashtriya Swayamsevak Sangh [RSS], KS Sudarshan passed away in Raipur in CHattisgarh early on Saturday.
Reports have said that KS Sudarshan was 81-years-old and died of heart attack. He is survived by a brother.
KS Sudarshan was born in 1931 and he was a telecommunication engineer.