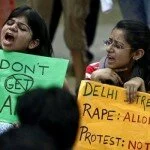 News have said that the Delhi police will appeal for life imprisonment for the accused in the gang-rape of a 23-year-old girl in a moving bus Sunday night.
The Home Secretary RK Singh further told media that the Delhi police is investigating the matter very seriously.
The Home Secretary said that the police had made fast progress in the Delhi Gang rare case.
RK Singh was addressing the press conference with Delhi Police Commissioner Neeraj Kumar. RK Singh said, "Police would seek a fast-track and day-to-day trial in the case of the gang-rape."
When media asked RK Singh that if Delhi Police Commissioner to resign for the incident, he said, "Police has done outstanding work in catching the culprits. That needs to be appreciated."
However, the Police chief accepted that there has been a rise in the city from 564 in 2011 to 661 in 2012, but said that would be due to rise in population in the city and women feeling more empowered to report such cases.