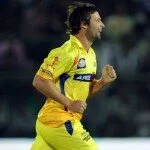 The defending champion of the Indian Premier League [IPL] Chennai Super Kings has once again tasted victory in the DLF IPL 2012. The MS Dhoni led CSK has won their IPL 5 match against Rajasthan Royals by 4 wickets in a match played at Sawai Mansingh Stadium, Jaipur 10 May 2012 – day/night (20-over match).
Earlier, CSK skipper MS Dhoni has won the toss and elected to field first. His decision of bowling first proved right and none of the Rajasthan Royals [RR] batsman able to bat for long.
RR skipper Rahul Dravid was the first to go with just 6 runs on the board in the 2nd over of the match. Australia all-rounder Shane Watson was the second who lost his wicket in the 6th over of the match.
Rajasthan Royals made just 126 runs in their limited 20 overs at the loss of six wickets.
Batting second, Chennai Super Kings [CSK] also lost opener Murali Vijay in the very first over. CSK lost wickets at the regular intervals of the match, but they finally achieved the total 127 runs for win on the first ball of the 19th over of the match. Suresh rains from CSK was the highest scorer with 23 runs.
RR skipper Rahul Dravid said, "You play a good game and sometimes a batsman comes out and plays an excellent innings, you got to accept that. The track was doing a bit, stopping and seaming around, they bowled well, credit to them. We are alive, just by our fingernails, we need to get going and try and win all the remaining games."
CSK skipper MS Dhoni said, "Leaving it too late is not something we do intentionally, our top six need to perform. As the tournament progresses, we need to get going, the batsmen are coming under pressure early and they need to bat freely. Srikkanth is an exciting youngster, you got to grab your opportunities, and that is what he has done. We have tried to bat him up the order but at times we need to continue allocating the same roles that we have done earlier."
Ben Hilfenhaus is the Man-of the-Match
Hilfenhaus said, "Very exciting game of cricket, good to come out on the winning side. T20 cricket is a funny format, things change rapidly, a good surface to bowl on, seaming around for me."
Scoreboard
Rajasthan Royals: R. Dravid c Hussey b Hilfenhaus 4 (9b, 1×4), A. Rahane c Ashwin b Yomahesh 17 (22b, 2×4), S. Watson c Ashwin b Hilfenhaus 5 (11b, 1×4), S. Binny c Raina b Yomahesh 27 (18b, 3×4, 1×6), B. Hodge lbw b Ashwin 33 (28b, 2×4, 1×6), J. Botha b Jadeja 12 (20b), A. Menaria (not out) 6 (5b, 1×4), D. Yagnik (not out) 10 (7b, 2×4); Extras (lb-6, w-6): 12, Total (for six wkts. in 20 overs): 126.
Fall of wickets: 1-6 (Dravid), 2-28 (Watson), 3-40 (Rahane), 4-65 (Binny), 5-97 (Botha), 6-115 (Hodge).
Chennai Super Kings bowling: Morkel 3-0-19-0, Hilfenhaus 4-1-8-2, Yomahesh 4-0-21-2, Bravo 3-0-38-0, Jadeja 4-0-21-1, Ashwin 2-0-13-1.
Chennai Super Kings: M. Hussey (run out) 19 (32b, 2×4), M. Vijay b Watson 0 (5b), S. Raina c Rahane b Pankaj 23 (17b, 5×4), D. Bravo c Binny b Trivedi 10 (15b), M.S. Dhoni c Rahane b Trivedi 10 (16b, 1×4), R. Jadeja c Botha b Pankaj 16 (13b, 1×4, 1×6), A. Morkel (not out) 18 (6b, 1×4, 2×6), S. Anirudha (not out) 18 (6b, 1×4, 2×6); Extras (w-12, nb-1): 13; Total (for six wkts. in 18.1 overs): 127.
Fall of wickets: 1-1 (Vijay) 2-36 (Raina), 3-57 (Bravo), 4-60 (Hussey), 5-80 (Dhoni), 6-84 (Jadeja),
Rajasthan Royals bowling: Watson 3-0-32-1, Pankaj 4-0-34-2, Tait 3.1-0-20-0, Botha 4-0-23-0, Trivedi 4-0-18-2.
Man-of-the-match: Ben Hilfenhaus.
Umpires BNJ Oxenford (Australia) and SS Shamsuddin
TV umpire HDPK Dharmasena (Sri Lanka)
Match referee AJ Pycroft (Zimbabwe)
Reserve umpire K Bharatan