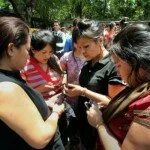 The Delhi government on Monday announced '167' as the new women helpline number. But within house, the Telecom Ministry changed the number to '181' saying that the new number three-digit number was easier to remember.
After the brutal Delhi gangrape of a 23-years-old girl student, the Telecom Ministry has announced the women helpline number for the first time in the past three years.
However, as per the statement issued by the Telecom Ministry, ""upon request for a number that would be easier to recollect", the number has been changed to '181′"
Meanwhile, it is said that Delhi Chief Minister Sheila Dikshit had requested Telecom Minister Kapil Sibal to provide a three-digit number for helping women in problem in the national capital.
The Telecom Ministry statement said, "Though DoT has limited resource in respect of three-digit numbers, yet within two hours of the request, a three-digit number has been allotted for Chief Minister's helpline."
On the other hand, protesters allover India is seen demanding quick justice to the accused in the gangrape case.