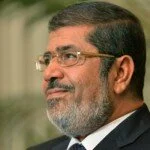 Egyptian President Mohammed Morsi on Saturday has annulled a decree that had issued last November for granting him sweeping powers, for ease huge anger of protesters that turned to violent clashes, left seven people dead and hundreds injured.
As per media information, Morsi has issued a new decree to cancel his previous much controversial which had rid off the judiciary right to challenge President's decision.
However, there is no change over the referendum on a draft constitution drafted by an Islamist-dominated assembly that would still go ahead as planned on December 15.
Meanwhile, a huge compromise has put by President Morsi for gripping the tensions that raised in Cairo streets as anger against him.
After Morsi's decree, huge violent protests held on the streets of Cairo, criticizing him of acting like a dictator. But as per Morsi, his decree was for Islamist or for reforms to make a strongest constitution as for that extra power was needed.
Morsi's decree has gone, but still there are many decisions would be stand under it and for that Opposition leaders demanded to wash out the referendum also, if Morsi wants to talk to calm a Egypt crisis against him.
Toughest time has for Morsi as Egypt's powerful military, also warned him to talk with Opposition, otherwise it would take action as different political powers will lead Egypt into a dark tunnel.
Morsi's constitution which ignores women's rights completely will be set to put on Wednesday.