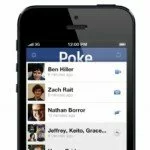 The Social Networking giant, Facebook has added one more but interesting App – 'Poke' App for iPhone and iPod Touch, allowing users to send pokes, 10-second video, pictures and text messages to their friends.
Interesting fact is that within 10 seconds, Poke App lets users to erases pictures and messages that of being sent. That means within 10 seconds the messages of being sent will expire and cannot be seen by either party again.
With a limit of 120 characters in a massage, there is an option to choose amount of time to being message lasts from 1 second to 10 seconds.
While a user receives a 'Poke' notification, one more interesting thing is that the voice which alarm at that time is actually Mark Zuckerberg's voice.
The advanced version of Facebook's original App 'Poke' is designed to make social networking site more advance, sending 10 second self-destructing messages.
Poke App is absolutely free for iOS, lets users easily to say hello to friends, and is expected to being appreciated by the public a lot. Facebook Poke is likely to take challenge to iOS App -SnapChat which is based on same specifications.