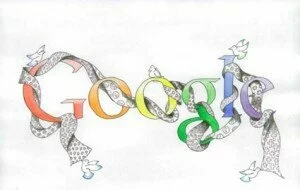 On the last day of 2011, Google's last Doodle carries Happy New Year wishes for millions of users across the globe.
Google Doodles are changes that are made the Google logo more decorative to celebrate holidays, anniversaries, and the lives of famous artists and scientists.
However last week with a colorful neon design with images of a snowflake, Santa Claus, bell, candle and a gift box on a black background, had been featured Google's Doodle for wishing its users "Happy Holidays".
Recently Doodle has featured with colorful letters in the word "Google" that wearing decorative caps and blowing trumpets, balloons and the second letter of 'g' of 'Google' wears the year 2012′s goggles, all this seems of being attending a New Year party.
Larry Page and Sergy Brin was the creator of first Google Doodle in the year 1998 to mark the celebrations of the Burning Man Festival. Google currently has Google has been featured with at least 1,000 doodles which deals with backround scenes at the creative process and links to the interactive versions.
Doodle site; allow users to purchase items, revamped by Google. Linking with the Google's other site; the updating page helps users to share their favorite logos on social networking websites.
When we click on the logo, it brings to a page which has all the Happy New Year-related links that are of images, SMS quotes and messages.