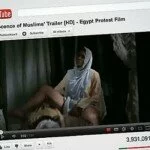 Amid continue violence over the anti-Islamic film, a 14 minutes "Innocence of Muslims" video uploaded on You Tube fired the controversial violent clash in Middle East.
On Friday, the White House asked Google to remove continuous uploading of the controversial video clips on YouTube that sparked a wave of anti-American protest across the Arab.
The authorities blaming that this clip is the reason to blow violence in Libya as well as Middle East, but Google has rejected the request and refused to take it down the web .
Google said that the access of online controversial video is censoring in India and Indonesia because of local laws deemed it illegal and also in Libya and Egypt, the very sensitive situation facing countries where U.S. ambassador and three Americans were killed on Wednesday because of anti-Islamic Film protest violence over US consulate.
"This video — which is widely available on the web — is clearly within our guidelines and so will stay on YouTube," the company said, clearly rejecting the US official request adding to be available on web.
As per report, online controversial 14 minutes "Innocence of Muslims" video tailored by Coptic Christian, depicts Prophet Muhammad as a fraud and murderer which is highly offended by the Muslims across the world, resulting anti-American protest riots in Middle East.
Meanwhile, YouTube where several such offensive and objectionable videos are uploaded mostly took under the action of many countries law, asking to blocking if any objectionable. But recent decision taken by Google would seem to going for a biggest controversial bow that may affect social media alot as US officials seeks strict action against it for rejecting its order.