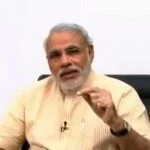 The Gujarat Chief Minister Narendra Modi has took on questions from a number of netizens on different topics with the help of a live video chat on giant search engine, Google+ Hangout on Friday.
The live video chat show on Google+ was hosted by none other than Bollywood actor Ajay Devgn.
Further, the Google+ server crashed for a while, due to the high traffic for Gujarat CM's live video. Narendra Modi is active on Twitter as well, on Friday, he answered many questions asked to him by people.
The live video chat of Google+ Hangout of Narendra Modi was broadcast live on YouTube.
Now, Modi is the first Indian political leader to host such a live video chat. Earlier, US President Barack Obama and Australian Prime Minister Julia Gillard had such live video chat.
Meanwhile, the Google+ Hangout provides group chat option and 10 person can chat at a time.
Check out Narendra Modi's live video chat on Google+ Hangout