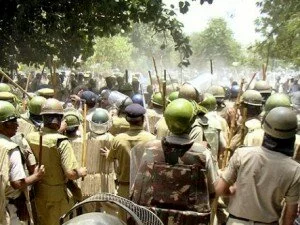 As per the latest reports, one youth was killed and many others were injured as members of Jat community clashed with local police in Ramayan village of Hisar district in Haryana on yesterday.
In the meantime, the incident occurred when Jats were on their way to hold a protest against police for detaining their top leaders as well as rounding up of agitators squatting near the railway tracks.
Moreover, the Jats Commodity have been holding such protests for past many days and they are demanding OBC quota in government jobs and educational institutes.
Yesterday, when Jats were holding a protest and the police party tried to dissolve the crowd using tear gas shells, the protesters striked back by throwing stones on police party and which forced police officials to fire shots in the air.
In the firing around one youth named as Sandeep of Mayyar village was killed. His body was been sent for post-mortem examination to the hospital.
On the other hand, other injured have been admitted to the civil hospitals in Hansi and Hisar.
It is also said in reports that the affected villages and other part close to that village are going through tough time.
Traffic on Hisar-Delhi road has been blocked by Jats and so it is diverted to other routes as safety measures. All schools have been closed till March 9.