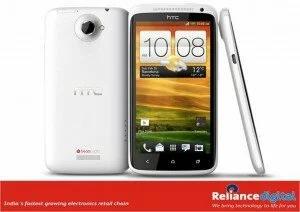 While many upgraded versions of Smartphone fail to introduce something new or possess the charisma of their predecessor, HTC One X is surely an exception.
The best part about HTC One X is its 4.7-inch display, which is stupendous. Offering a 180-degree viewing angle and a flawless color reproduction, this Smartphone with its 720p makes individual pixels seem almost invisible.
The exquisite details of this phone including the exterior of the phone that is made of a mixture of black glass and white material makes it exclusive.
If you are wondering whether the gorgeousness of HTC One X will expect you to compromise with the safety aspect, you are proven completely wrong. The polycarbonate shell that is referred to as bulletproof shell guarantees you absolute safety.
Sense 4.0 that this phone offers is satisfying but obviously not at par with some marveling features in this phone. Minor disappointments like the missing task manager app in the ROM lets you down. The 25 GB of dropbox storage that this phone offers is satisfying. Besides, the overall usage might seem smooth and convenient to users without any hassle.
A unified viewfinder for photo and video modes is worth appreciation. ImageSense makes your clicking and shooting experience quick and exciting. The rear mounted loudspeakers and 3.5mm headphone grants you clear audio quality.
The battery life is also decent despite heavy usage owing to the one Cortex A-9 cores specifically working to save battery. Last but not the least, The Nvidia's 12 core graphic processing makes your gaming experience even more electrifying.
HTC One X is a complete package with its Amoled screen, 1.5 GHz quad core processor, 8megapixel camera, 32 GB Storage along with its 4.7-inch display. Nothing other than the huge price tag should keep you away from this smartphone.
HTC One X is truly impressive owing to its exclusive features. The polycarbonate exterior shelf and its 4.7-inch display are the highlights though. Buy this exquisite phone at Reliance Digital Stores. To know more visit our website www.reliancedigital.in