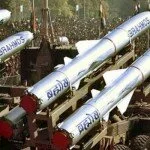 Jointly developed with collaboration of Russia and India, the first prototype of the hypersonic BrahMos 2 cruise missile, having Mach 5-Mach 7 speed capabilities, will be ready for flight testing in 2017, as per an official source saying.
"I think we will need about five years to develop the first fully-functional prototype(of the hypersonic missile. We have already carried out a series of lab tests at the speed of 6.5 Mach," Sivathanu Pillai, chief executive officer of the Russian-Indian joint venture Brahmos Aerospace said while interacting with media persons.
Joint Russia-India Hypersonic BrahMos 2 missile will be come in three variants — ground-launched, airborne, and sea-launched.
The two of sea and land versions have been put up at the service of the Indian Navy and Army. These missiles will only be for India and Russia without being supplied to third world countries, he further added.
As per report, BrahMos supersonic cruise missiles are invention of a joint venture of India and Russia, BrahMos Aerospace Ltd Company which established in 1998.
Over all missiles are designed on basis of the Russian-designed NPO Mashinostroyenie 3M55 Yakhont (SS-N-26), carrying a range of 290 km and warhead of up to 300 kg, more fast from the US-made subsonic Tomahawk missile, a report said.