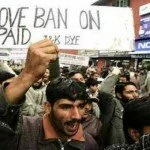 Amid rejection on the "ban" on popular websites in Kashmir, on Wednesday internet disrupted service hit out, accessing problems have disturbed thousands of Kashmir mobile users especially Facebook, micro blogging Twitter and YouTube.
Many users complained that from last week they had not been able to access Facebook, YouTube or Twitter account on mobile as well as desktop using broadband services in the Kashmir.
Google had blocked anti-Islam video "Innocence of Muslim" on YouTube due to risk of having much violent reaction of Islamist group in India who had stormed bloodshed in Muslim countries.
Even report is that without any instructions, several service providers have downgraded their 3G service to 2G, problems for users to access fast internet.
A source said that "Instead of banning only the anti-Islam video on YouTube", seeming that now the entire website has been blocked in Kashmir.
Moreover, Aga Syed Ruhullah, the Minister for Science and Technology refused the report of any such ban on any website.